We take away a lot more than just a backpack from SMX. Whether they challenged, inspired, or annoyed me (or just made me laugh) these are the soundbites and tweets that will stick with me in the weeks to come. This is an amazing community with tremendous insights - soak it up!
There were so many gems - I wish I had the time to include them all but as we all know, Search Engine Marketing never sleeps!
 TWEETS:
@aimclear
Public Relations RT @RicDragon: btw all you #smx peeps: We need a new name for link building. Any ideas?
I will be saying this at least once a week. 
@lerna
"Personalization is the new normal." says Stefan Weitz #smx #23B 
*Stefan Weiss is @stefanweitz 
She has already used this line on a client call. Twice. 
@LisaBarone
There are 6.8 billion people on the planet. 5.1 billion of them own a cell phone, but only 4.2 billion own a toothbrush. - Gib Olander #smx 
*Gib Olander is @golander59
Mind-blowing stat.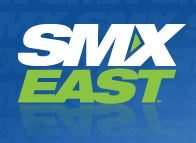 FROM MY NOTEBOOK:
@dannysullivan
In intro to "Up Close with Google+/+1" noted that Google+ was originally called "The Google+" but Justin Timberlake told them to drop the "THE."
Priceless.  
@billhunt
Paid search is "a combo of day trading and direct marketing."
This makes me feel like I should be proud of my mathematical skills (I took "Math for Liberal Arts" in college). 
@eSearchVision (Ben Vigneron)
"We're not sure how yet, but it's happening." (re: Google +1 button effect on Quality Score)
I get the feeling every search marketer is feeling this uncertainty. 
@christianism
"Social is a core human behavior, not a destination."
"Page rank shows us what pages are pointing to, google +1 button shows us what people are pointing to." 
Christian has great things to say - even though he couldn't tell us when brand pages will launch on Google+